Sunny Parkway family houses
Above standard housing project for a standard price
The latest state-of-the-art heating, ventilation and cooling technologies in your home, including air humidity control
"SMART" Solution – smart electrical installations enabling you to control heating, ventilation, exterior shades, lighting, security components and appliances – even remotely from your mobile devices
Top quality passive aluminium clad wood windows along with the structure of the house and the technologies used deliver great energy efficiency (A/A)
Bathrooms equipped with first-class sanitary ware including premium Italian floor tiles and wall tiles make a very fresh impression
A modern kitchen with first-rate appliances and a wine cooler will satisfy every type of food lover
Terraces made of premium Italian tiles
A video gatekeeper with a remote control; technical alarm systems – fire and flood protection
Cables prepared for patio sunshade control, including future extension to the first-class Jablotron security system, automatic watering system and a retention tank control; preparation for an EV charging station; roof shafts prepared to install a photovoltaic solar power plant and many other features
Living close to Prague
Sunny Parkway family houses development project
Accessibility
Main arterial roads are located within easy reach; the metropolitan area ring road system can be accessed in 10 minutes. Travel to downtown Prague—even on a daily basis—does not pose the slightest problem.
High-end housing
Solid buildings with a useful area (rooms and the garage) of almost 194 sq. m and an open-air patio of 33 sq. m, on parcels ranging from 578 to 791 sq. m. They boast great energy efficiency (A level) and are equipped with modern technology including smart house solutions.
Carefree purchase
Construction of houses with a warranty of 48-months on the construction part and 24–30 months on the installed technology, as per conditions of individual manufacturers. The final price includes legal services. Your money is always kept in a bank's custodial account.
Location
The Chýně municipality offers a full scale of civic amenities—public transport, a school, kindergarten, medical centre or railroad.
Family houses on offer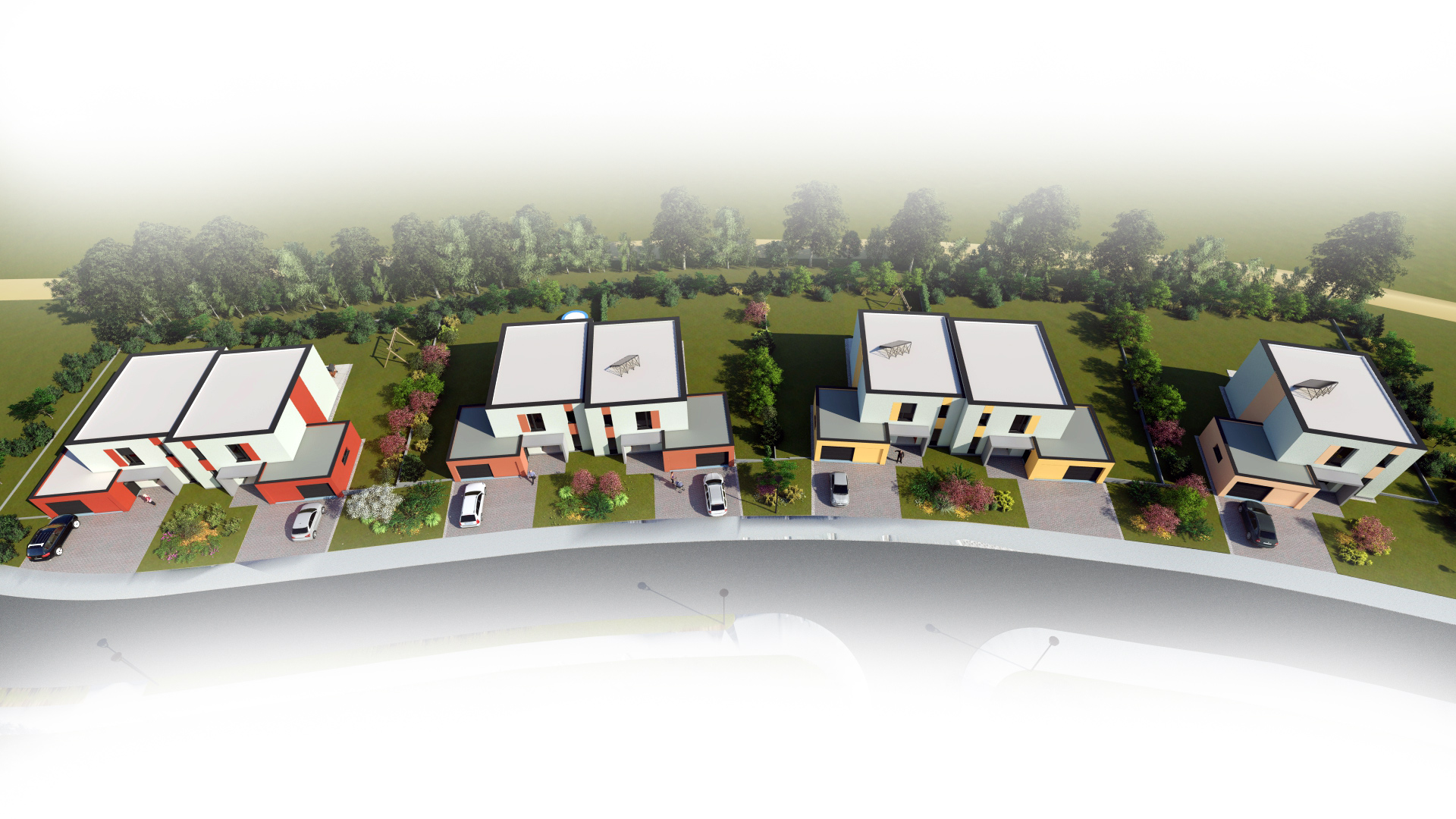 | House | Layout | Parcel number | Parcel size (m2) | Usable area (m2) | Price, VAT incl. (CZK) | Completion | Availability |
| --- | --- | --- | --- | --- | --- | --- | --- |
| SO.01 | 5+kk+G+S | 816/238 | 791 | 188,19 | 24,990.000 Kč | approval | available |
| SO.02 | 5+kk+G+S | 816/236 | 625 | 188,19 | 23,440.000 Kč | approval | pre - reservation |
| SO.03 | 5+kk+G+S | 816/209 | 589 | 188,19 | 22,990.000 Kč | approval | pre - reservation |
| SO.04 | 5+kk+G+S | 816/208 | 589 | 188,19 | 22,990.000 Kč | approval | available |
| SO.05 | 5+kk+G+S | 816/207 | 607 | 188,19 | 23,150.000 Kč | approval | available |
| SO.06 | 5+kk+G+S | 816/206 | 578 | 188,19 | 22,790.000 Kč | approval | available |
| SO.07 | 5+kk+G+S | 816/205 | 645 | 188,19 | 23,490.000 Kč | approval | available |
Living your dream on 200 sq. m
One day, every one of us arrives to a decision to move their life forward. Moving on to the next stage may include finding a new job, starting a family, or perhaps buying a new home.
And speaking of own homes—a family house is something that occurs to most of us. With a spacious garage, a sunlit garden, a lush manicured lawn or a swimming pool. The place where we can relax together, enjoy delicious barbecues, have fun with our children or play with our pets.
Or just sit quietly in the shadow of a gazebo, relishing the moment.
And this is exactly what we had in mind when we decided to create the embodiment of that dream near Prague.
No miniature houses with a useful area nowhere near 100 sq. m on a parcel whose borders trace those of the building. No such place where the teensiest front garden makes you feel like shedding tears of joy.
The project we have prepared for you fully complies with your idea of ideal own housing. It is a calm place where you can observe sunrise and sunset, where you still can let your children run out without worrying about busy traffic and where there is enough space around the house to convert all of your ideas into a reality.
We would love to show you, within the framework of the Sunny Parkway project, that living near Prague can be pleasant and convenient.
Miroslav Bárta
Managing Director of Buba Vision s.r.o.

How is your investment guaranteed?
The Sunny Parkway project has been designed to protect your funds to the maximum possible extent. Clients' advance payments are always kept on a project account held with Equa bank which will only release the money to us after the property is entered in the Land Register.
How can we help with funding?
Should you be interested, we are able to ensure favourable credit conditions to purchase your property.